The History of Becks Tailoring
Beck's Custom Tailoring is owned and operated by Norman Beck and his father, Manfred (Fred) Beck.
Manfred, a European trained master tailor founded Beck's in 1962. During this time he has been known as the premier custom tailor in the Northwest a title that is now also being earned by his son, Norman. In 1984 Fred was the first Designer/Tailor from the West coast to earn the honor of being president of the Custom Tailors and Designers Association of America.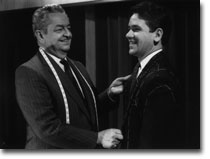 The customer base includes numerous executives and professionals who have always understood the importance of image. Recently there has been an influx of the younger prosperous Hi-tech executives, that are now beginning to realize the importance of image and appearance.
Manfred sold the business in 1987 and retired. In 1989 Norman enthusiastically opened up his own shop (Norman's Custom Tailoring). In 1992 Manfred rejoined the firm. Then in 1997 they retook the family name Beck's. The teaming of the two Becks has worked extremely well, with mixture of "Old World Quality" mixed with new ideas and enthusiasm.
Our view of style for this Summer Season.